MY ARCHIVE WITH CALLAN GRECIA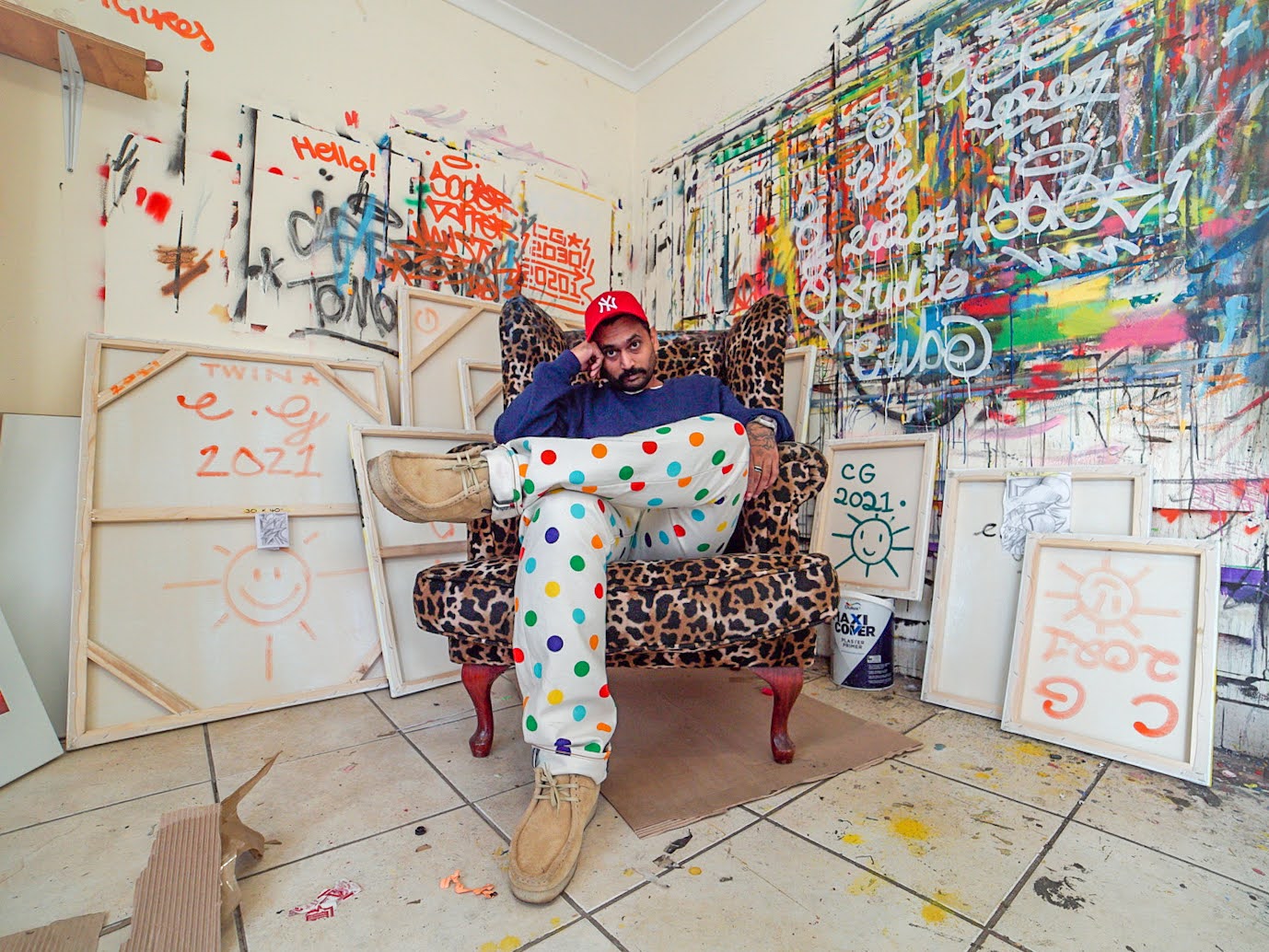 An artist who knows no bounds, Callan Grecia has always answered the call of his creative expression. With heavy influences in music, photography, and fashion, he's now made painting the nucleus of it all - an evolution as colourful and energetic as his works of art.
We caught up with the Durban born artist to chat about art, his influences, and his sneaker obsession. Read the full interview below.
Is art something you've always been passionate about or was it an interest that developed over time?
I liked creative things from early on and I was always drawing from as long as I can remember. I wanted to be a car designer, a fashion designer and photographer. In matric I decided that I was going to study art and once I started to specialize in painting I realized I didn't really want to do anything else. So it definitely developed over time. Listening to Lupe put me on to Goyard and Maharishi, listening to Kanye put on to Condo and Murakami. So I can say that I was hungry to expand my interests before I put my passion fully into one thing.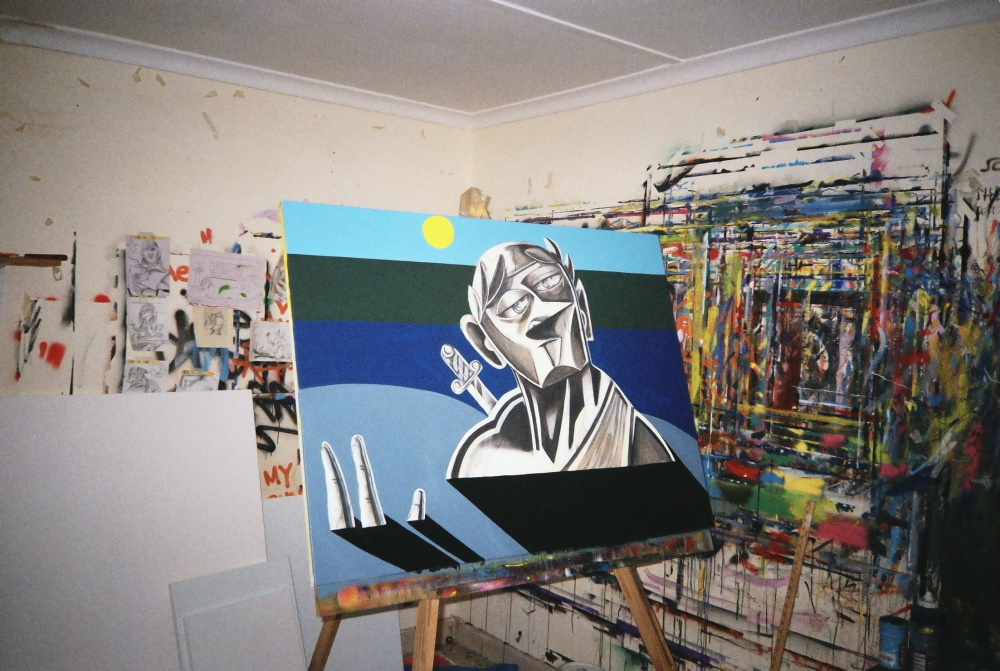 Who or what are some of your artistic influences?
I love Kerry James Marshall, Henry Taylor, Tal R and Daniel Richter. Damien Hirst is probably my favourite art mind of all time. But the influences aren't just painters or artists. Pharrell and Andre 3000 were big fashion and art influences for me. And music has always played a big role in inspiring me. Hence the name of my upcoming solo presentation at WHATIFTHEWORLD titled Cosmic Disco. J Dilla introduced me to the funk and the funk is in my work for sure.
How has your upbringing or culture influenced you as a creative?
I've been lucky to have supportive parents who afforded me the freedom to do whatever made me happy. Growing up in Durban was also vital in making me who I am now. It was a melting pot and I found myself in so many different groups of people - from fashion, graffiti artists, rappers and producers. And in all of these groups I felt like they were the best in the country at what they did because Durban was always doing its own thing. We weren't constrained by anything so creatively Durban was and is its own animal. I think that played a big role in harnessing that freedom and making most of it.
When it comes to your personal style and choice of sneakers, where do you draw inspiration from?
Pharrell and Andre 3000 where huge for me. 2000's Pharrell wearing dunks and Bapesta's, blending skate style with hip hop was just too good. Andre was a weirdo and always put together the most eclectic outfits. Pharrell was a base and Andre was the spice or the garnish to flip that into something next level. Later on ASAP Rocky and Danny Brown were also big influences on how I dressed. My earliest inspirations were probably Freddie Mercury and David Bowie though, that's why I love white pants, leather boots and pale blue suits.
Since we've established that you're a seasoned sneaker head, what are your thoughts on reselling?
I'm generally all for people making their money but right now reselling is so prevalent I often wonder if pairs that could be on peoples feet are just sitting in someone's house catching dust and not being bought because the mark up is too high. I'm fine with raffles. I'm not losing out to a computer but when you're buying a full size run to flip to kids for 2 or 3 times the price it feels cynical. A lot more people would be able to be a part of sneaker culture and experience the joy of it if they could afford to buy in. But on the converse, (no pun), I've been buying a lot of general release stuff that sits because people just want hype, so it depends on you. Do you want the hype or do you just love shoes?
What are your thoughts on brand collabs?
We're experiencing collab fatigue right now. Everybody has a collab and It's not as special as it used to be. It feels like there's so many lazy collaborations that just seem like money grabs. But occasionally there's some great stuff happening too. Rick Owens Converse collab is a great amalgamation of the brands history and vision with Rick Owens' own history and vision. On the plus side, I've been introduced to so many new things because of collabs. I had no idea what GMBH was until I saw their Gel-Kayano 5 collab and now they're one of my favourite apparel brands.
If you were to collab with a brand, who would it be? 
I love Margiela but I think a Converse collab might just be a childhood dream I need to make happen at some point.
MY ARCHIVES (IG STORIES?)
Your top five sneaker brands?
1) Converse
2) Nike
3) ASICS
4) Adidas
5) Vans
Yeezy or Jordans?
I sold all my Jordans last year (I have regrets!) and have more Yeezy than Jordan in my collection right now but I still have to say Jordans.
Low tops or high tops
I was born in 91 so high tops.
Deadstock or retro
Deadstock prices are crazy, I'll take a retro any day of the week.
Nike or Adidas 
Nike.
Street wear or designer
Both.
FOLLOW CALLAN FOR THE LATEST UPDATES ON HIS WORK AND EXHIBITIONS: