ALL THE LOCKDOWN FAQTS YOU NEED TO KNOW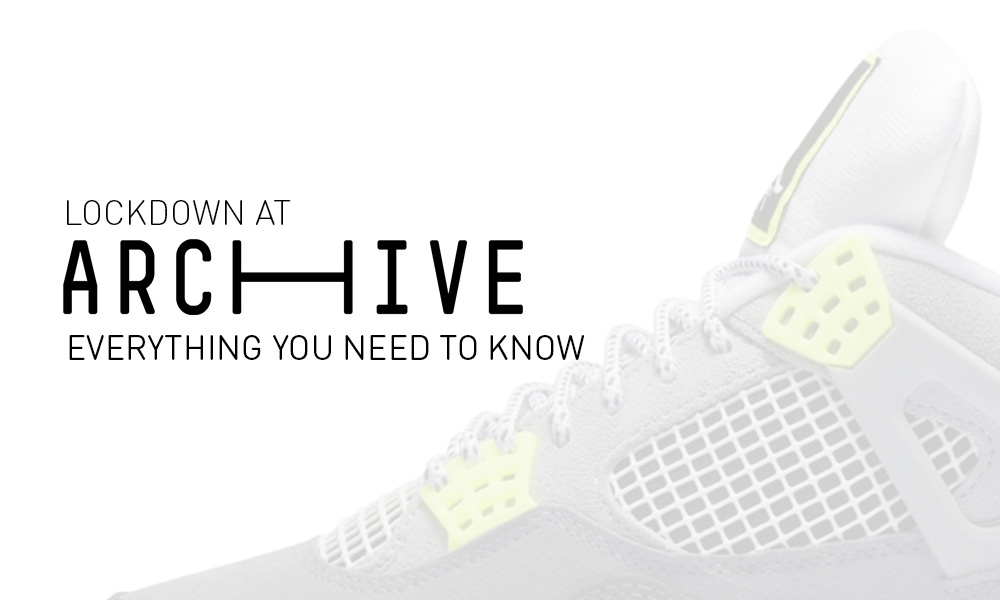 Social distancing has proven to us that when we come together, we can truly achieve anything.
Since before the announcement of a national lockdown, we knew that circumstance required of us to rethink how we do some things and put the safety of our country and our people first. We've closed our stores in compliance with regulations set out by our government but, we've made every provision to stay connected with you. Here's a full breakdown of everything you need to know about the lockdown period at Archive:
SHOPPING
Our stores are open and trading under strict government guidelines. To prioritise the safety of our staff and customers, we've taken some special precautions. Please be aware of what these are:
Wearing of masks in stores is compulsory
We may be required to limit the number of customers into our store
Ensure you sanitise your hands before entering our store
Once in the store, please practice safe social distancing
Fitting rooms will be closed
If you prefer to shop online, you can do so on our website. Let's stay safe together. Free standard delivery applies on orders over the value of R500.
SHOPPING ONLINE USING YOUR TFG/ARCHIVE ACCOUNT
You can use TFG/Archive account card to shop online. When you reach the payment page of the check-out, please select STORE CARD & put in your card & CSV details in the appropriate fields.
ONLINE PAYMENTS USING PAY NOW
Try out our new secure Pay Now feature, powered by PayU, to make instant payments online. Simply identify yourself with your card or account number and pay with your credit card, debit card or via instant EFT. It's that simple.
ACCOUNT PAYMENTS
You can still pay and manage your account from home during the lockdown period using one of the many online payment options we have available (online self service, EFT and debit order, to name a few) – click here for all you need to know
To set up TFG as a beneficiary using your online banking profile, follow the steps outlined here.
If you do not have access to any of the options above, you can also pay your account at any ATM
The expiry dates of incentives for newly approved accounts and lay-by payments will be extended by the duration of the lockdown
LAY BY
Existing lay-by's: Don't worry, we'll hold your lay-by for you. We have extended the lay-by expiry date by 30 days. You can make payment in-store once we reopen.
Applying for a new lay-by: unfortunately lay-by's are only available in our stores, meaning that we will not be able to process any lay-by requests during the lockdown period. Once our stores open, please bring in a copy of your ID book & a minimum 10% deposit. You'll then have 3 months to complete your lay-by.
RETURNS AND EXCHANGES
Bought something and need to return or exchange it but the 30 day deadline is during lockdown? We're extending the deadline of all returns by 21 days for purchases made in-store or online to accommodate the lockdown period. The item must be in the same condition you purchased it in, in the original packaging & must have the receipt & price tag on. For more on our returns policy, read here.
CONTACTING US
Our online customer services team will be available to assist you should you have any queries and can be contacted on 0860 834 834 (we are experiencing a high volume of calls, so you may wait a while to speak to a team member).