The best retro sneakers that you need RN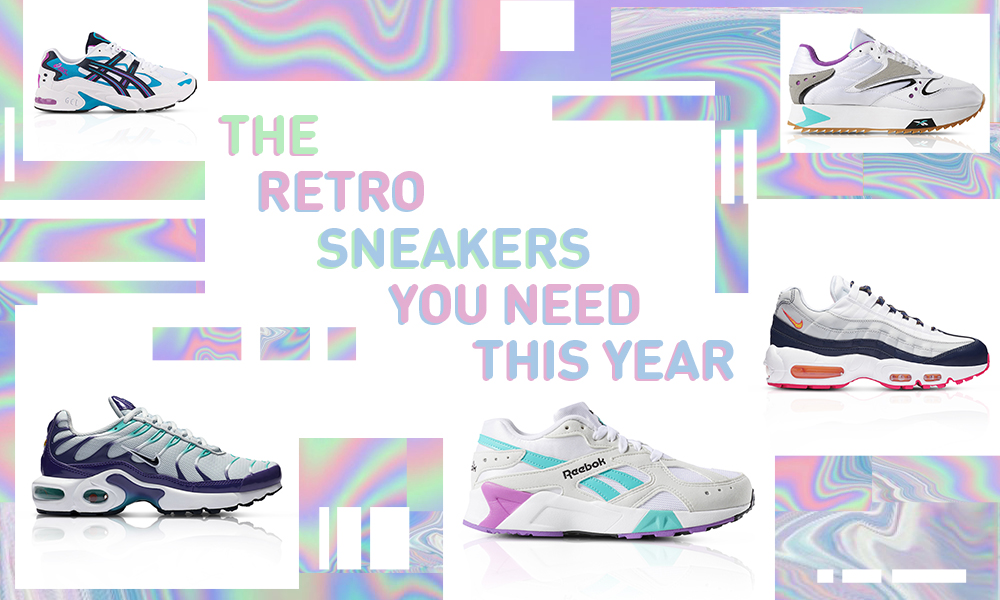 If you've been seeing a lot of retro kicks making its way on to the feet of your friends, family and even your bae (who suddenly started swapping her heels for sneakers), and wondering if they went back to the archives digging for the most '90s looking sneaker they could find, you're thinking is not that far off. You probably went onto the Sneaker News blog and numerous sneaker websites (you know, the ones the hardcore sneaker-heads tend to visit) to see if you might be missing something and indeed; you have. Retro kicks are back for good. Now you're even considering getting yourself a pair or going back into your own archive and start wearing those Nike "takkies" you kept aside if they ever made their return to the world of trends.
Back in the '80s and '90s, sneakers were making their transition from function to fashion, with brands like Nike, Reebok and asics dropping kicks left-right-and center, making the '80s a decade known for technical advancements when it comes to footwear. This is the decade where the sneaker hype was born, a decade iconic enough to carry its weight into the 2000s. inspire millennials around the world to wear the styles they saw biggie and 2 pac wear back in the day.
We've been seeing brands like Nike, adidas Originals, PUMA, asics and Reebok digging way back into the archives to return some of their retro icons. Globally, retro kicks have been making their way onto runways with luxury brands Alexander McQueen, Burberry and Balenciaga at the forefront of this trend.
Some of these technical advancements and '80s/'90s fashions have been making its way back onto the streetwear scene in 2018 and 2019 at a pace too fast for most of us to keep up with, but we've sorted through the noise and curated a selection of our favourite retro sneakers that's made a return.
If you've been keeping your finger on the pulse of sneaker culture, you'll know that the Aztrek sneaker is one of the most recent retro renditions to hit the streets of South Africa. Reebok describes it as "a stitch-by-stitch reproduction straight from the running-shoe archives". The retro colourways of course make it even more authentic to '90s style.
ASICSTIGER GEL-KAYANO 5 OG
The OG from 1999, back for 2019. ASICSTIGER decided to look to the past and decided – 20 years later – to bring back one of their retro runners in a colourway inspired by the night sky. This OG is probably one of the most coveted retro revivals of 2019, with sneakerheads' reviews hailing it for being "
true-to-the-original shape and detailing
."
This one's been on everyone's radar for some time now, but that's just because the Nike Air Max 95 is a classic that has withstood the test of time. The arrival of the "dad shoe" trend in 2018 has just solidified this sneaker's popularity, making it one of the classics each sneakerhead – especially the ladies – is bound to have a pair of.
REEBOK CLASSIC LEATHER ATI 90s
Even icons need to change it up sometimes. This altered version of the original '80s shoe serves up fresh style with a mix of bold patterns inspired by other Reebok favourites. Making us feel especially nostalgic about this sneaker, is the fresh memory of Baby Spice's (Spice Girls) platform sneakers. Fast forward a few years, and you'll see Reebok ambassador Gigi Hadid donning the iconic platform sneaker, proving '80s sneaker culture made a significant impact on sneaker culture in the 2000s.
These babies were released in 1998 and have been one of the most popular Air Max silhouettes to date. We're yet to see a South African sneakerhead who does not have a pair of these.