Black Friday Basics at Archive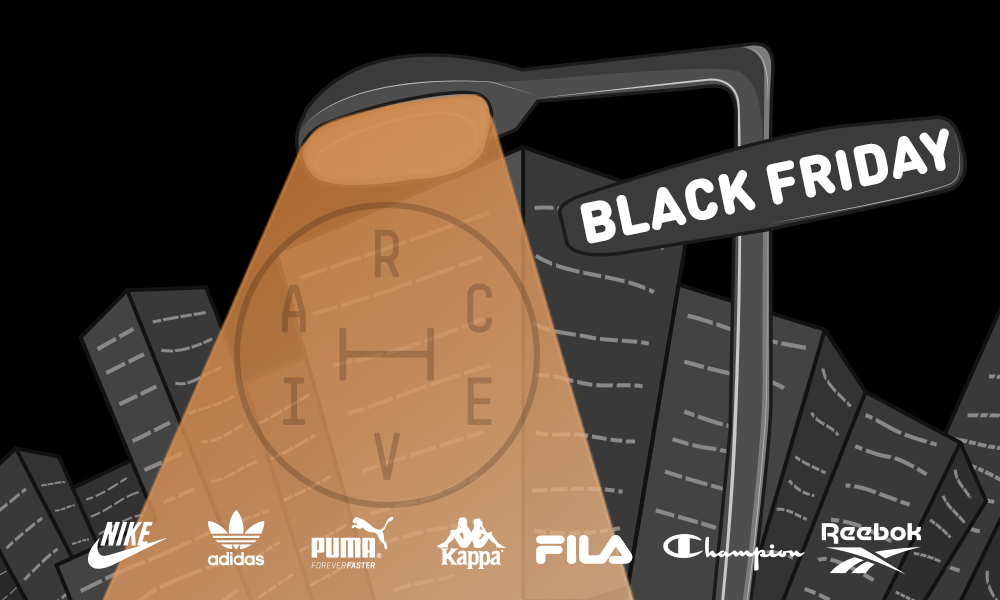 Shopping Black Friday at SA's leading destination for sneakerheads and collectors is going to be a day to remember. Black Friday offers will be available at Archive from Friday, 29 November until Saturday 30 November and we've got offers on selected sneakers, clothing and accessories. Check out our Black Friday guide to make sure your shopping experience is just as crisp as those Retro Jordans you bought recently.
WHERE CAN I SHOP BLACK FRIDAY AT ARCHIVE?
Black Friday can be shopped online at www.archivestore.co.za and at all Archive stores.
BLACK FRIDAY SHOPPING DATES
Black Friday deals become available at Archive (in-store and online) from Friday, 29 November and can be shopped until Saturday, 30 November.
ONLINE TRADING HOURS
Black Friday can be shopped online at www.archivestore.co.za from 6pm on Thursday, 28 November.
STORE TRADING HOURS
Black Friday will be affecting our usual trading hours.
Stores trading from midnight on Friday, 29 November
Archive Sandton City
Archive Canal Walk (midnight opening time cancelled. New opening time: 6am on Friday, 27 November)
SHOPPING BLACK FRIDAY ON 29 NOVEMBER AT ALL OTHER ARCHIVE STORES
6am – current store trading hours
SHOPPING BLACK FRIDAY ON SATURDAY, 30 NOVEMBER AT ALL ARCHIVE STORES
8am – current store trading hours
HOW DO I SHOP ONLINE USING MY ACCOUNT?
Although we intend for the website to be fully functional during the Black Friday period, there is a possibility that the website will temporarily experience technical issues (due to high volume of shoppers online). If that happens, you might have some trouble signing in using your TFG account and will have to sign in online with a guest account.
Guest sign in procedure
Continue without signing in option
Re-enter all sign in details and address information
How will you handle refunds and order cancellations?
Our standard refund policy will apply. If your online shopping order has been cancelled, you can use the 'track order option' by entering your order number on site or contact our customer service online team on 0860 576 576.
What if your website goes down?
We'll be watching the site as closely as you this Black Friday. We have a full team to address these issues, if and when they occur.
WHICH OFFERS CAN I LOOK FORWARD TO SHOPPING ON BLACK FRIDAY?
For now, we can only give you a taste of what's to come:
Selected sneakers up to 60% off
Selected clothing up to 50% off
HOW MUCH WILL I PAY FOR DELIVERY WHEN SHOPPING ONLINE ON BLACK FRIDAY?
Our delivery offering does not change for Black Friday (check them out here), but it's always good to know that whenever you shop online at Archive, standard delivery is free when making a purchase worth R500 or more. Click & collect in-store remains free – regardless of the value of your purchase.
CAN I SHOP USING MY TFG ACCOUNT ON BLACK FRIDAY?
Yes!
Keep checking in to make sure you don't miss any Black Friday info! You can also click here to sign up for our newsletter if you want us to send the offers straight to your inbox.
Terms & Conditions apply
Offer available on selected clothing, footwear and accessories, while stocks last. Online product selection may differ from selection available in-store. This offer is subject to change and cannot be used in conjunction with any other offer. Oversold items (applies to online shopping) will be cancelled and refunded.